Warning:
You are about to see the not-so-gourmet side of the Gourmet Mommy.
Food snobs beware.
There are so many recipes and techniques for roasting a chicken out there it's
overwhelming
. When you start looking at the advice given, the rules, the "don't do this" and "never do that" and "always to this" you can start to get dizzy.
At least I can.
See, we buy our chicken in bulk. Our neighbours raise chickens and slaughter them, so we buy 20 or so large, whole birds in the fall to last us the year. It's healthy, economical, and delicious! I love that I can use the leftover carcass to make homemade chicken stock.
But here's the problem -
I could never remember to thaw the bird ahead of time
.
Besides, all these complicated processes? I kept thinking that there must be an easier way.
Turns out, there is.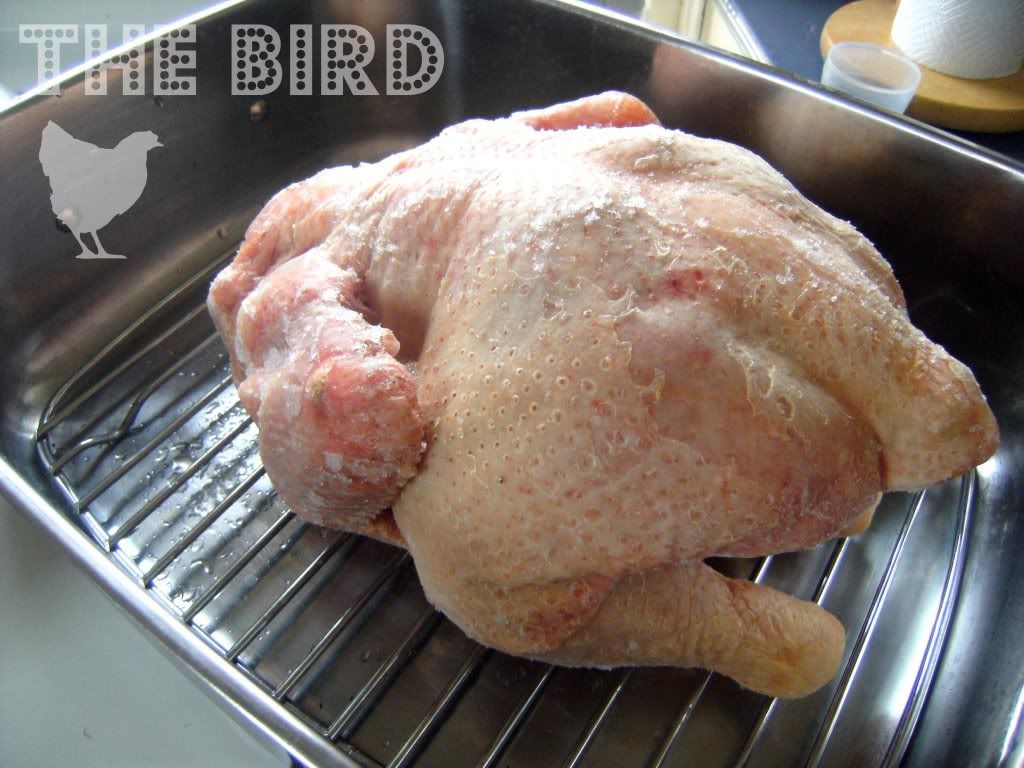 This, friends, is a whole, raw, completely frozen chicken. All I did was pull it out of the freezer, peel off the plastic bag and plunk it into my roaster. Grody, I know.
Now,
we roast it.
ALL
you have to do is splash a little water into the bottom of the pan. You don't even have to do that except that it means more gravy (and who doesn't love more gravy!). Put the lid on tight, put it in your oven set to 350 degrees, and forget about it for five or six hours. I usually put it in at lunch time to be ready for supper.
Of course if you've got a smaller bird it won't take as long, but you get the general idea. Just
cook
the dang thing.
Here's the best part - the chicken comes out of the oven moist, tender, and completely falling off the bone. The skin on the top even crisps up nicely!
Six hours later, the lighting is crummy. But you get the idea.
See the bones bursting through the skin? That means it's falling-apart tender and delicious.
A few things:
You see I used a rack. You don't have to. I don't really find it makes any difference, the rack just happens to be in the roaster so I don't take it out. I'm lazy when it comes to chicken, in case you hadn't noticed.
You see I put the chicken breast side down. You don't have to. I'm just not a huge fan of white meat anyway, and roasting it breast side down makes it a little more moist.
You see that it's ugly. It doesn't matter, it tastes good, it was no work, and that's what's really important in life.
After the chicken is done I take it out and set it on a platter, pull it apart and we dig in. I make gravy with the drippings in the bottom, adding lots of salt and pepper and using a mixture of three parts brown rice flour and one part arrowroot to thicken it (gluten free, and healthier than white flour).
Enjoy your roast chicken dinner! We usually have ours with mashed potatoes OR cauliflower, carrots, peas, coleslaw, and homemade Lady Ashburnham pickles (Eli's favourite).
The next day you can pick off the leftover meat and make a soup or a casserole, then use the bones to make
homemade chicken stock
.
Congratulations.
You just did virtually
no work
, and you have a roast chicken dinner to show for it. That's my kind of gourmet!
Linking up to
The Purposed Heart
,
Like a Bubbling Brook
and these other blog hops: