And I'm not going to apologize for it!
As I was mentally crafting this post in my head I found myself coming up with excuses and explanations as to why I bring my husband his breakfast in bed five days a week so that he wouldn't come across as controlling or egotistical and I wouldn't come across as weak or a pushover.
It looks like this, every morning! [not]
But then I realized that feminism was infecting my mind again.
There's no need to apologize or make excuses for serving our husbands. If my husband brought
me
breakfast in bed five days a week everyone would think he was the most wonderful man ever born.
But when a woman does it, people assume that her husband forces her too. They would say things like "Make him get his own breakfast!" or "You're not his servant, stand up to him!"
Well no, I'm not his servant. But I
am
his
helper
, and breakfast in bed is something that works for our family.
I'm the morning person around here. My alarm goes off at six, and after the initial staggering across the room to turn it off and shaking the fuzz out of my brain,
I get excited
. From six to seven the dark quiet house is all mine. I snuggle into my housecoat, put on a pot of coffee, curl up in the cozy recliner and it's just me and God for a little while. Then I check my e-mails and/or Facebook, and Eli gets up around seven. He gets to watch Sesame Street when he first gets up, so while he's occupied with Elmo and Big Bird I can unload the dishwasher and make our breakfast smoothies.
Then I can go into our room, turn on the lamp, wake my husband with a kiss and a snuggle and we sit in bed and drink our smoothies together, chatting about the day. Theo usually wakes up around this time and then Eli's show ends and he joins us too. The four of us snuggled in bed together is one of my favourite times of the day. It usually disintegrates into a wrestling match because Eli is incapable of sitting still for very long, but that's fun too!
This works for our family. Cory's not a morning person and struggles to get out of bed in the morning. Bringing him his smoothie in bed has ironed out the huge wrinkle in our lives that was wake-up time. Instead of sitting around the table seething because
I told him 20 minutes ago that it was breakfast time!!
we have peace and enjoyment.
Obviously this wouldn't work for everybody. But for us, for this season - I bring my husband breakfast in bed. And it's great.
Recipe time!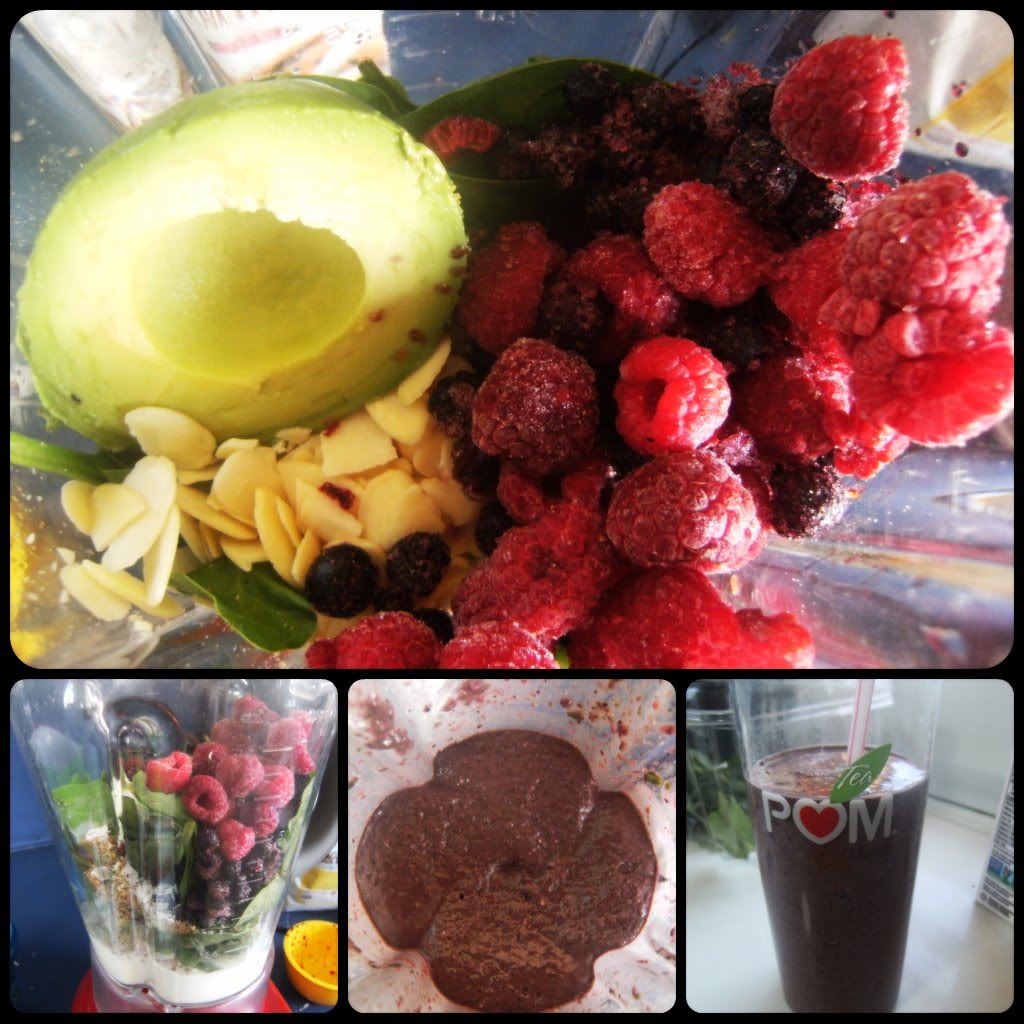 Cory and I have slightly different tastes, and I'm trying to keep my smoothie dairy free, so here's what we each have every morning. Eli and Theo have Cory's recipe too.
Cory's Banana-Berry Smoothie
1 cup raw cows or goats milk
1/3 cup plain homemade yogurt
2 big handfuls organic baby spinach
1/2 organic banana
1 tbsp ground flax seed
2 tbsp unsweetened coconut
1/2 cup organic frozen raspberries
1/2 cup organic frozen blueberries
Emily's Nut-Berry Smoothies
1 cup organic almond milk
2 big handfuls organic baby spinach
1 tbsp ground flax seed
2 tbsp unsweetened coconut
2 tbsp raw pumpkin seeds
1/2 cup organic frozen raspberries
1/2 cup organic frozen blueberries
You might notice some flaked almonds and half an avacado in the pictures above. I add the almonds if I don't have pumpkin seeds because I love the crunch. I'll throw in half an avacado into my smoothie if I have one, but not all the time. Cory hates avacado, but I hate banana!
What about you? How does breakfast work in your family? Do YOU have a favourite smoothie recipe? Please share!